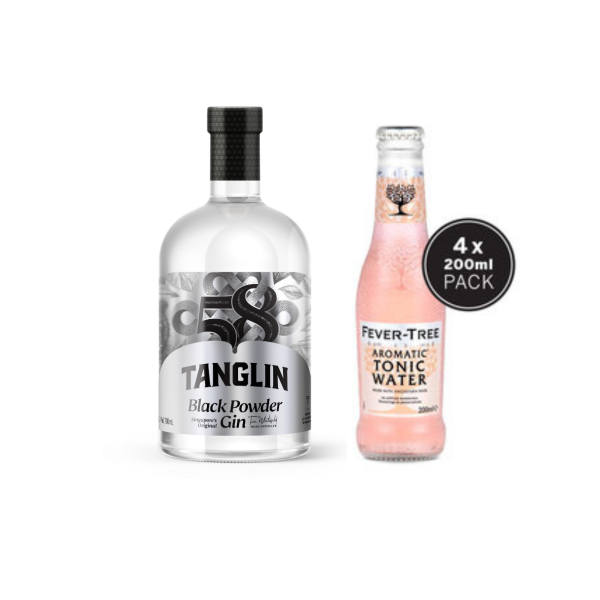 Black Powder Gin + 4 x Fever-Tree Aromatic Tonic
$127.00
Bring out the bright and bold with the Aromatic Tonic Water.
Description
700ml, 58% ABV. A super smooth award-winning navy-strength gin. A must-try.
The bruised juniper, whole fresh oranges from our punchy navy-strength Gin go wonderfully with the cardamom, pimento berry and ginger from the Aromatic Tonic. Now, it's even easier to make the cocktail at home.
40ml Black Powder Gin + 120ml Aromatic Tonic Water. Add a sprig of rosemary and combine it with a large cube of ice.
Our navy strength gin is a punchy 58% ABV, making it an ideal gin for your cocktails, but still super smooth for sipping. Any navy strength gin has to be above 57% ABV, the strength at which gin drenched gunpowder still ignites when lit. Rest-assured this award-winner has no rough edges and is creamy smooth.
Our Black Powder recipe departs from our Orchid Gin in two ways: half the juniper pods are bruised and whole fresh lemons are added into the botanical blend for a bright citrus note.
---
Tasting notes: Gentle citrus nose with a bold Juniper character and pepper note. This gin has distinct umami with a depth of flavour and a slight sweetness and warmth. Peppery herbal notes for a long and lingering finish that is gentle and smooth.
Ingredients: Juniper, Coriander, Vanilla and Amchoor (a fruity spice powder made from dried unripe green mango), Fresh Lemons.
How to enjoy: With Orchid Gin at its heart, with surprisingly extra smoothness, try it neat, hold it in the mouth and allow the taste buds to open, warming the liquid before swallowing.