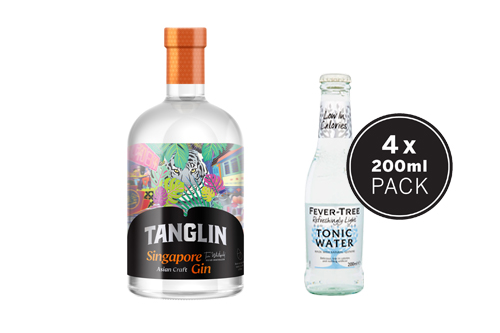 Singapore Gin + Fever-Tree Refreshingly Light Tonic
$107.00
Refreshingly Light Tonic lifts the tropical zing of Singapore Gin.
Description
700ml, 42% ABV. A citrusy gin with chilli and ginger to give the taste buds a lift. The Tonic water compliments our Singapore flavours such as young ginger, Kafir Lime leaves and Kampot Pepper.
Singapore has become our home and we wanted this gin to capture the original pioneer spirit and the range of flavours cultivated and brought into our shores.
---
Tasting notes: Fresh natural sweet mandarin citrus characters and a hint of orange blossom and kaffir lime. Kaffir Lime on the front palate, sweet mandarin orange citrus with a ginger hint on the middle palate. Young ginger and the Kampot Pepper combine with the chilli to give a hint of warmth that lingers and doesn't burn.
Ingredients: Juniper, Young Ginger, Kaffir Lime Leaves, Chilli, Cassia and Mandarin Peel.
How to enjoy: For a gin and tonic, 50 ml Singapore Gin Gin, 150 ml Tonic. Add a slice of pineapple and top with fresh kaffir lime leaves. Combine with a large ice cube.