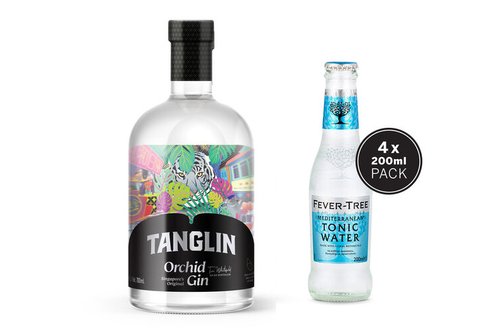 Orchid Gin + 4 x Mediterranean Tonic
$107.00
Mediterranean Tonic makes for a balanced Gin and Tonic with our Orchid Gin.
Description
700ml, 42% ABV. Our 'OG' is a modern gin with the unmistakable pine of juniper.
Singapore's First Gin has been designed to reflect the cultures and cuisines of its home country. The not-so-secret ingredient is in its name: Vanilla Planifolia Orchid. This modern gin is smooth—with the pine of the juniper unmistakably present. Its herbaceous flavour notes come from the classic gin botanicals with a surprising twist—Amchoor—hails from India and is a powdered green mango, adding that extra citrus note. The usual suspects appear too, old-world botanicals like coriander seed and liquorice.
Great with a slice of orange and a cinnamon stick. Now it's even easier to make the cocktail at home!
50ml Orchid Gin – 150ml Tonic Water
Serve with a fresh or dehydrated orange wheel or cinnamon stick—torched for aroma. Combine with a large ice cube.
---
Tasting notes: Gentle citrus nose followed by a herbal and spice note. The palate is smooth and creamy, held over the tongue an earthy herbal flavour appears with some sweetness. Long and smooth finish with a slight peppery warmth that lingers.
How to enjoy: For a gin and tonic, add a stick of Cinnamon with an orange wheel to finish. For an extra lift, add a splash of lime or orange bitters. Also makes an excellent Martini with Maidenii Dry White.